Hope is a Choice
 BY CHRISTINE POTEROBA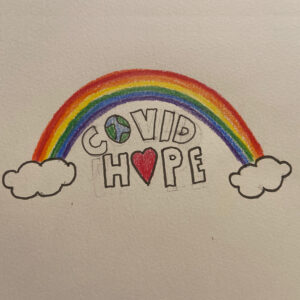 When offered the opportunity to create a logo for COVIDHOPE, I was ecstatic. I truly hope that this movement can be a place of comfort and knowledge to those who need to hear that all is going to be well. And it is true. I wanted to incorporate our earth and a heart as a symbol that we all are a part of this pandemic. The best way we can come onto it is with precaution, love, and of course trust.
Rainbows are often seen after a rain storm as the clouds clear. This symbol of beauty after all the turmoil should also be a reminder that this is temporary. There is a light at the end of all this chaos and fear. Through it all we are given the opportunity to bond as a community and work together (even from a distance).
I also wanted to touch upon the opportunities that present themselves in this time where we are suggested to self-quarantine. Speaking from my own personal experience, I feel as if there are so many times in my daily life I wish for "more free time". More time to do what I can't squeeze in a busy schedule, and more time to be reflective. As towns and cities have shut down to keep this virus from spreading, I finally have the time to sit down and just be for myself. We are blessed to have advanced technology in this age. I encourage those of you reading this to think about something you have wanted to do for yourself. Whether it's journaling, catching up on your favorite TV show, learning how to cook a classic family meal, calling a friend to catch up on FaceTime or even just allowing yourself to rest and relax- Dive right in!!!
Be safe, and be well. As Buddha said, "Hope is the one thing that is stronger than fear"
Christine Poteroba
High School Student who created the COVIDHOPE Logo